Animation produced by Gyorai Eizo (Urawa no Usagi-chan)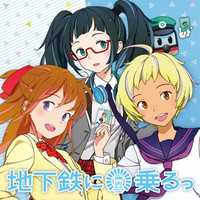 Kyoto Municipal Transportation Bureau has posted two new anime CMs featuring its city subway's three mascot girls: Moe Uzumasa (CV: Nana Hasegawa), Saki Matsuga (Yui Tsukada), and Misa Ono (Mimori Tanigake). They are voiced by the three winners of the voice actress contest held at the Kyoto International Manga Anime Fair 2014.
The animation is produced by Gyorai Eizo, which is also currently working on the Urawa no Usagi-chan TV anime. The song featured in the CMs is "sakura" written/composed/sung by indie pop songwriter Harumi Ooki.
"Kyoto no Machi wa Chikatetsu de" (Go through the Kyoto-city by subway) version
"IC Card Start" CM
"Chikatetsu ni Norou!" (Let's get on the subway!) version posted in January
Moe Uzumasa
Saki Matsuga
Misa Ono
Latest promotional poster for the Nijo Catsle
Source: Kyoto Municipal Transportation Bureau
images © Kyoto Municipal Transportation Bureau