Kickstarter campaign to fund publication of Tezuka's "Clockwork Apple" also launched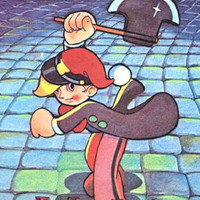 Digital Manga Publishing has begun selling eBooks of some of the early works of profoundly influential manga and anime creator Osamu Tezuka's early work, including his post-war break-out New Treasure Island and his early attempt at adapting classic literature, Crime and Punishment.
synopsis
When Pete's late father leaves him a map of treasure island, the young boy roars down to the dock and hops on a ship headed for adventure. With his friends, the ship's captain and his trusty canine companion, by his side, Pete must face off against the scourge of the seven seas, the dread pirate boar! But when a sudden storm sends everyone into the sea, the race is on to see who will claim the riches of treasure island first... With only man-eating sharks, an island-full of hungry cannibals, and a small army of lions, tigers and elephants, all under the control of an enigmatic Tarzan-like figure named baron, standing in their way.
Based on an original story written by a veteran cartoonist in Osaka, Sakai Shichima, Tezuka Osamu, who was not yet popular at the time, drew the pictures for Shichima's book, which became his debut work. Its Western-style pictures and quickly unfolding storyline attracted a lot of attention, and his work became a best seller with 400,000 copies sold, laying the groundwork for the Manga craze. The original version of "New Treasure Island" was based on Tezuka Osamu's manuscript, but substantial modifications were made by Sasaki Shichima, who cut nearly 60 pages and also changed some of the lines. When publishing "The Complete Works of Tezuka Osamu," Tezuka Osamu remade it based on his memory to make it closer to his original.
synopsis

In Russia, on the eve of the revolution, a young student named Raskolnikov murders an old pawnbroker over a pocket watch. Although an innocent man is quickly arrested for the crime, Raskolnikovs's own published essay - suggesting that people who are "extra-ordinary" are above such things as "right" and "wrong" - draws the suspicion of judge Porfiry. Who will catch up to Raskolnikov first? Porfiry … or his own guilty conscience?
"Crime and Punishment" was Tezuka Osamu's second Manga in book form that reinterpreted the Western classics, following on the world of Faust. It was also his last book with the Osaka publisher that had brought Tezuka Osamu to fame with "New Treasure Island." Tezuka Osamu drew part of this work on the train as he shuttled back and forth between Tokyo and Osaka. During this period, he was spending increasingly more time working for Tokyo based magazines.
The conclusion of this work is very different from the Dostoevsky classic on which it is based.
Incidentally, when he was a university student, Tezuka Osamu had a stint as an actor, appearing in 1947 on stage in a rendition of "Crime and Punishment." Holding back his fear of heights, he bravely performed his role as a painter on top of a tall staircase built on stage, only to be terribly disappointed when he found out that all the audience could see were his feet.
synopsis

Under the red sky of Mars lives an enigmatic man named Ken. Not a single person alive knows who he is, why he's on Mars, or why he looks just like Miss Ken Minakami. In a whirlwind of gunfights, horseback chases, and utter lawlessness, Captain Ken sparks a time of change. The townspeople seek to rid themselves of the corrupt Mayor Deven (who doesn't give a whit about anyone else), and the Martians wish to reclaim the cities that were once their homes. Stranded in a prison full of enslaved Martians, Ken must get himself out, or all is lost.

From the creator of Astro Boy and Blackjack comes an epic sci-fi western on Mars starring Captain Ken and his trusty steed, Arrow. Captain Ken is an enigma. Not a single person alive knows who he is, why he's on Mars, or why he looks just like Miss Kenn Minakami. His presence sparks a revolution—while the Martians seek to reclaim the lands stolen from them, human townsfolk aim to rid themselves of the corrupt Mayor Deven. Amidst the whirlwind gunfights and horseback chases, Captain Ken must go on his greatest adventure yet to save a woman of great importance in the middle of a Martian revolution.
December 18, 1960 to August 20, 1961
Appeared serially in "Weekly Shonen Sunday"(Shogakukan Inc.)

"Captain Ken" appeared serially in "Weekly Shonen Sunday" following "Zero Man." Describing imaginary worlds was one of Tezuka Osamu's strong points. Before releasing "Captain Ken," he described in detail the weather and food of an imaginary planet, Demon, in "The Adventure of Rock." (1952).
In "Captain Ken," Tezuka Osamu's imagination greatly enriches the story, as illustrated by his description of Mars: the sky is violet, the sun looks smaller on Mars than on Earth, the gravity is less powerful, and Martians eat only the peels of fruits and throw away the insides.
When "Captain Ken" appeared serially in the "Weekly Shonen Sunday," the publisher sponsored a prize contest called, "Guess Who Captain Ken Is." Many readers sent in answers but only two readers won the prize.
synopsis

Cactus Sam is just your regular, ordinary cowboy, but give him just a sip of milk and transforms from a calm, congenial fellow, into the rootin-est, tootin-est, two-gun shootin-est cowpoke you ever did see... And it just so happens his parents own the local "Milk-Hall". Join "Cactus" on his adventures, as he makes some new friends and battles unsavoury characters across the Old West - with his trusty six-shooter in one hand, and a nice, ice-cold cold, glass of milk in the other.
synopsis

Kotan is a child of Ainu descent who finds himself suddenly in the care of a man-eating tiger named Dan. Dan has vowed to Kotan that he will help him find his lost parents. Their search is cut short when the odd companions are approached by an old Ainu man named Upopo. When Upopo spins tall tales of how Kotan is the chosen one who will locate and inherit the Ainu's hidden treasure, Kotan and Dan find themselves battling criminals, murderers, cheats, liars, and all-around closed-minded folk. As if there weren't enough things threatening their lives, a crow warns Dan that Kotan is will be the one to end Dan's life. Can Brave Dan and his best friend Kotan survive the trials that await them? What is the Ainu peoples' hidden treasure, and is it really worth it? Was the crow telling the truth, or was it just malarkey?
(The Heibonsha World Encyclopedia defines the Ainu as a "minority aboriginal tribe of Hokkaido, Japan.")
Although the central character of "Brave DAN" is an Ainu boy, the contents are pure fantasy. Here, Tezuka Osamu lets his prolific imagination run free, and the story, set in the vast wilderness of Hokkaido, reflects his lifelong love of nature and animals.
synopsis
In 1876, young Takanosuke Arashi is sent by the Edo government to deliver a top-secret message to the United States of America. When his ship is waylaid by pirates, Takanosuke is cast adrift with an eclectic group of passengers, including a dog with four names, and part of a treasure map. Then begins an adventure that will take Rakanosuke around the world, from the wild-west, to old Morocco, to Baghdad. Who will get their hands on Napoleon's treasure first?
This is a work written at the request of monthly boys' magazine "Shonen Shojo Bokeno," first published in February 1949.
Initially, the story was like a western movie. But as the work was continued at the direction of the publisher, the story began to lose its direction, with Takonosuke joining a group of foreign troops in Morocco, entering into the world of magic and spells in Baghdad, etc.
This is why Tezuka Osamu later calls the work a "totally rambling and happy-go-lucky story" (in the postscript to the Complete Works of Tezuka Osamu, published by Kodansha Ltd.).
However, when this work was produced, the full-length Manga style had only just made its debut in this magazine.
Therefore, this work can be seen as part of a trial and error process for Tezuka Osamu in determining possible styles for the magazine. Parodies of movies popular in those days are scattered in prologue and throughout the work, and it exudes a flavor reminiscent of 1940s movie stars.
The front page of each chapter of this work, compiled in the Complete Works of Tezuka Osamu published by Kodansha, carry additional information on the author.
synopsis

Japan, 1594. In an effort to hold his chief rival in check, the shogun entrusts his loyal vassal, Lord Matsunoki with a plan to construct a new castle. The castle of dawn is not just any castle though, but one to be built in a traditional European style. Will Lord Matsunoki succeed in building his life's work? Or will the spies, traitors, and saboteurs that oppose him bring the whole thing crashing down on top of him?
Digital Manga Publishing has also launched a Kickstarter crowdfunding campaign with the aim of raising $13,500 goal by May 7th to publish Osamu Tezuka's "Clockwork Apple," an anthology compiling 8 short stories of speculative fiction. Almost $12,700 has already been raised.
In this collection of speculative fiction a man finds a wonder drug, a robot has a baby, a town is subjected to control by substance, a robber runs away from murder, a man searches for his mysterious love, American school kids are kidnapped, an activist takes part in political intrigue, and space hippies defy peace conventions.
Originally printed between 1968 – 1973, these speculative fiction short stories have similar tone and themes to Eerie and Creepy comics as well as the TV show The Twilight Zone. Though it has a similar name to Clockwork Orange, it is in no way related to the book or film.
At roughly 248 pages, the book will be printed in our new standard thicker paper, like Barbaraand Alabaster (coming to backer doorsteps soon). Also new to the campaign are items specifically designed with Tezuka characters in mind such as a cabby / paper-boy hat with Rock Holmes embroidered on the back with his usual cocky grin and, for the first time ever, a 3.5"x5.5" Moleskine journal with the Clockwork Apple logo de-bossed onto the cover. Check below for further details.
"This title is often regarded as being one of the top five Osamu Tezuka titles, and I agree. Tezuka always excelled in writing stories that could potentially happen in our reality. Pretty scary." - Hikaru Sasahara, President of Digital Manga, Inc.
Here are the specs:
Paperback
High-quality paper that is denser, smoother, and off-set white (by popular demand!)

Size: A5 (5.875"x8.25"), same as our other Tezuka releases

Right to Left Manga Reading format

Pages: 248pgs
MSRP: $15.95
"Smack him around until he talks. If he falls asleep...hit him until he wakes up."
------
Scott Green is editor and reporter for anime and manga at geek entertainment site Ain't It Cool News. Follow him on Twitter at @aicnanime.