The 2nd chapter will be released on May 23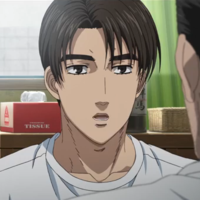 The official website for the trilogy anime film project based on Shuichi Shigeno's street car racing manga Initial D today posted 30-second and 60-second trailers for the upcoming second chapter Shin Gekijo-ban Initial D: Legend 2-Tousou-, introducing its theme song "Resurrection" performed by four-member mixture rock band BACK-ON. The song will be included in the "Sound Collection" album to be released on May 20, along with two insert songs "The Brave (D Version)" and "Carry on (D version)" performed by Backdraft Smiths.
The second chapter focuses on Takumi Fujiwara (AE86)'s battle with Takeshi Nakazato (GT-R), and also tells the "Duct tape deathmatch" with Shingo Shoji (EG6). It will open in Japan on May 23.
60-second trailer
30-second trailer
Poster visual
Source: "Shin Gekijo-ban Initial D" official website
© 2014 Shin Gekijo-ban "Initial D" Production Committee