"Raid" director in discussion for project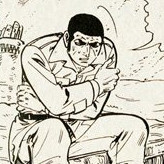 For 47 years, business men have been enjoying the adventures of cold hearted assassin Golgo 13. Why shouldn't Americans appreciate the exploits of manga's foremost professional killer? Well, Sony's hacking scandal resulted in their e-mail exchanges being leaked, and part of the trove included former CEO Amy Pascal in discussions of a G13 franchise, from The Raid's Gareth Evans and Rick Cook (the Wizardry series).
Re: RE:
Absolutely!

On Friday, March 21, 2014, Pascal, Amy <[email protected]> wrote:
DO ALITTLE THING ON THIS FOR ME WOULD YOU
Begin forwarded message:
From: "Ambe, Kaz" <[email protected]>

Date: March 20, 2014 11:45:22 PM PDT

To: "Pascal, Amy" <[email protected]>

Subject: Re: RE:
I can imagine how stressful and painful process it is but everyone seems behaving very professionally, I've heard. This is happening everywhere now. I hope we can go over this soon and move onto the growth phase again. Can't wait to see amazing spiderman 2. Look forward to catching up with you soon. Best K A

----- オリジナルメッセージ -----
差出人: Pascal, Amy
日時: Friday, March 21, 2014 02:23 AM
宛先: Ambe, Kaz
件名: Re: RE:

Yes that would be fantastic
It was a difficult week in la with all the cuts
But things are really exciting on the
movies front
Let's catch up soon
And thanks for thee tip about the manga
A


On Mar 20, 2014, at 11:11 PM, "Ambe, Kaz" <[email protected]> wrote:
Hi
It was small world and how quick this reached out to your attention. The name of the comic is "Golgo 13"
http://en.wikipedia.org/wiki/Golgo_13
It was filmed before in Japan and animated too but not so impressive. It would be surely superb if Gareth directs it, I think. Good to hear from you. Talk to soon!
Best
Kaz A
-----Original Message-----
From: Pascal, Amy
Sent: Friday, March 21, 2014 2:05 AM
To: Ambe, Kaz
Subject:
How are you?
I was wondering if you remembered the name of the Japanese magna Gareth Evans was interested in turning into a franchise?
Alan told me you knew it and agreed it would m
Re:
Based on your call with me yesterday I told everyone we were clear to make
the offer on INFERNO as outlined in Gumperts email but I think Wyman
hasn¹t yet but is about to.
Wyman is also getting into both Paul¹s deal and his writer¹s deal asap,
he¹s no quote and we just got hers but everyone knows we are proceeding.
Status quo on GOLGO, all I hear from Rich Cook is ³we¹re almost there with
Sammy and Gareth², etc.
I call every day
On 8/1/14, 3:03 PM, "Pascal, Amy" <[email protected]> wrote:
>Where r we in inferno
>Paul Feig
>Gogol 13
>
>Sent from my Sony Xperia Z2
via z88kitsune

-------
Scott Green is editor and reporter for anime and manga at geek entertainment site Ain't It Cool News. Follow him on Twitter at @aicnanime.