"I can Friday by day!" debuts Friday April 24th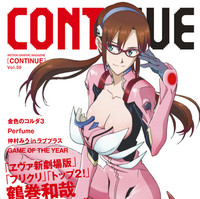 The Japan Animator Expo showcase of shorts presented by Dwango and Evangelion creator Hideaki Anno's Studio Khara has announced that its 19th will be from FLCL, Gunbuster 2 and Rebuild of Evangelion director Kazuya Tsurumaki, with Hajime Ueda (FLCL manga, Monogatari art) on planning and Sushio (Kill La Kill) as animation character designer and animation director.
About the episode 19 "I can Friday by day!"
<Staff>
Director,Storyboard: Kazuya Tsurumaki
Planning: Hajime Ueda
Character Design: Take
Animation Character Design,Animation Director: Sushio
Mechanic Design: Toshiaki Ihara
<Story>
A diary. Purikura stickers. Blue-white 3rd Planet Administration Treaty Army. 7:00 am. Triangle situation. Camouflage pattern. The secret toasted bread. 1088th Independent Mobile Platoon. SaHa E233. Type Otsu Foreign Legion. Beast-vehicle. "Hi, guys." Campfire. Pan-galactic rare crystal Ikemeshium. Tears.
The episode of "I can Friday by day!" will be digitally distributed on the official website of Japan Anima (tor)'s Exhibition on Friday April 24th, 2015.
The next Animator Expo is 'I can Fryday by day'. Tsurumaki x Hajime Ueda x sushio. Get hype! http://t.co/Ermx1TNdxH pic.twitter.com/3AjaibK0xN

— kViN (@Yuyucow) April 20, 2015
Tsurumaki's known as one of Anno's most talented pals and Hajime Ueda's famous nowadays for designing all the fancy Monogatari ED sequences,

— kViN (@Yuyucow) April 20, 2015
but them collaborating is especially cool since FLCL was Tsurumaki's directional debut and Hajime Ueda was in charge of its manga. Destiny.

— kViN (@Yuyucow) April 20, 2015
(Plus yay sushio as the animation director, but that goes without saying.)

— kViN (@Yuyucow) April 20, 2015
A bit of Kazuya Tsurumaki Eva art
-------
Scott Green is editor and reporter for anime and manga at geek entertainment site Ain't It Cool News. Follow him on Twitter at @aicnanime.