The latest 7th volume is just released today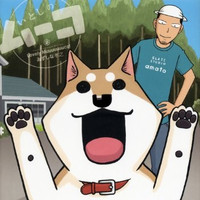 The author Takayuki Mizushina himself announced on his official Twitter today that a TV anime adaptation of his pet dog-themed manga Itoshi no Muco/Lovely Muco! is in the works for a fall 2015 premiere. No other details has been confirmed.
The manga has been serialized in Kodansha's biweekly magazine Evening since April 2011, and the latest 7th tankobon volume is just released today, April 22. The tagline on the covers is "The happy and daily life of Muco and Komatsu san."
It was previously adapted into two short anime series by Doga Kobo and aired in Fuji TV's living information program "Non Stop!" in 2013 and 2014. But according to Mizushina, they should be categorized as "Lovely Movie," and strictly speaking, not anime series. He says, "This time, it's a
real anime."
「いとしのムーコ」2015年秋にアニメ化します。 あれ?いままでのは? あれはラブリームービーというやつで厳密にはアニメではありませんでした。今度のは本気のアニメです。新しい情報は随時報告させて頂きますのでどうぞご期待ください! pic.twitter.com/jSEpHEdtgd

— みずしな孝之 (@sinamism) April 23, 2015
The coversof the 1st and 7th volumes
Source: Takayuki Mizushina
© Takayuki Mizushina/Kodansha