The mid-1970s shoujo manga set in Tokyo of the Taisho era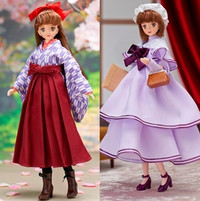 Takara Tommy has started accepting pre-orders for two versions of the character dolls of Benio Hanamura, the protagonist girl of Waki Yamato's popular shoujo manga in the mid-1970s, Haikara-san ga Tooru (Here Comes Miss Modern).
The "Watakushi Hana no Jyunana-sai (I am glaring 17 years old)" version features her hakama school uniform worn in the first half of the story, set in Tokyo of the Taisho Era (1912–26). The "Shuppansha no Oshigoto (The jobs at the publisher)" version features her working style in the latter half. The price for the 27cm-tall dolls is 10,584 yen (including tax/about 88 US dollars) and their scheduled shipping date is late September of this year.
The manga was serialized in Kodansha's Weekly Shoujo Friend from 1975 to 1977, then compiled in
eight tankobon volumes. It won the 1st Kodansha Manga Award's Shoujo Manga Award in 1977.
A 42-episode TV anime adaptation was produced by Nippon Animation in 1978-1979, then a live-action
film adaptation starring Yoko Minamino was released in 1987, three live-action TV drama adaptations
were aired in 1979, 1985, and 2002.
"Watakushi Hana no Jyunana-sai" version
"Shuppansha no Oshigoto" version
Tankobon 1st and 2nd volume
Source: Takara Tommy via Comic Natalie
© Waki Yamato/Kodansha