Advance sales will be held at Hanazawa's tour venue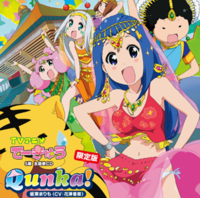 Following the announcement for the fifth TV anime adaptation based on Roots and Piyo's comedy manga series Teekyu early this month, a preview for its OP song "Qunka!" sung by Kana Hanazawa as Marimo Bando is now online. It is written/composed/arranged by Yashikin, who also worked on the OP song for the ongoing fourth season, "Fa tto Shite Tougenkyo" by Mimori Suzuki.
Before the general release on May 27, the limited edion of the CD single will be sold at Nippon Budokan in Tokyo on May 3, the first venue of Hanazawa's "Live 2015 'Blue Avenue'" tour.
The Teekyu TV anime fourth season broadcasts every Monday at 10:30 am Pacific Time for Crunchyroll premium members, with free members able to watch one week later. It is available to
audiences in the following territories: North America, South America, Canada, United Kingdom, Ireland,
South Africa, Australia, New Zealand, Denmark, Finland, Netherlands, Norway, and Sweden.
"Qunka!" preview including a CM for the fourth season OP song and announcement for the fifth season
CD single jacket
Kana Hanazawa
via: "Tekkyu" anime official Twitter
© Roots/Piyo/Earth Star Entertainment/Kameido High Tennis Club
© Aniplex Inc.