All of the seven volumes are ranking in top 30 of the weekly sales chart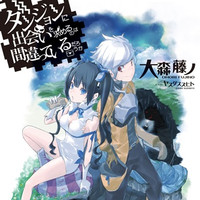 The latest seventh volume of Fujio Omori's fantasy light novel series Dungeon ni Deai o Motomeru no wa Machigatteiru Darouka/Is It Wrong to Try to Pick Up Girls in a Dungeon?, aka Danmachi, was released in two editions in Japan on April 14. Its 2,160-yen limited edition comes with a drama CD voiced by the same cast with the ongoing TV anime adaptation.
The 767-yen regular edition of the volume takes first place in the Oricon weekly bunko sales chart selling an impressive 50,693 copies in its first week. In spite of its higher price, the limited edition also ranks 19th with 11,413 units. In addition, all of the previous six volumes are back in top 30 now, mainly thanks to the great success of the TV anime.
GA Bunko's official Twitter announced yesterday that they have decided to reprint all of the volumes again,
including the newest seventh, and the series now has a total of two million copies in print.
Covers of the first and seventh volumes
Sound preview for the drama CD
Source: Oricon, GA Bunko official Twitter
©Fujino Omori/SB Creative Corp. illustration:YASUDA SUZUHITO