Limited edition available for order ahead of a July 31st release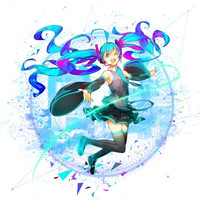 Orders are now open for the Blu-ray of Hatsune Miku's New York Expo performance. Set to be released July 31st, The limited edition ($95) comes with 7-inch vinyl record with 2 tracks from the New York concert including "Sharing The World" and "Glass Wall", exclusive 16p booklet and special box package.
"HATSUNE MIKU EXPO" began as a comprehensive event that promotes the creative culture surrounding Hatsune Miku to the world, attracting 15,000 visitors at its kick-off event in Indonesia in May 2014. In October 2014 the festival achieved a huge success in the US, gathering 30,000 fans in Los Angeles and New York. Among the festival's accompanying live concerts, the praised New York live performance in legendary New York venue Hammerstein Ballroom is now finally available to enjoy on film!!
Opening with the festival's theme song "Sharing The World", the set list boasts of new songs as well as the most-beloved hit songs, featuring not only Hatsune Miku but all of her friends!
Enjoy this fantastic production of Hatsune Miku's live performance, now available in limited special edition package!
CONTENTS
Bonus Materials for Limited Edition Blu-ray :
7-inch vinyl record with 2 live tracks - "Sharing The World" and "Glass Wall" from the New York concert
"SONOCA" - the music download card for your smart phone for downloading "Sharing The World" and "Glass Wall" live tracks.
Exclusive booklet "HATSUNE MIKU EXPO 2014 in Los Angeles & New York" (16p)
Special Box package features illustration by apapico
Bonus Contents :
"Universal Positivity - Experience Hatsune Miku -" (Approx.15mins)
Special documentary features exhibition events and fan interviews in Los Angeles and New York
*Bonus Materials are exclusive for the first-run limited edition of Blu-ray discs.
*High Quality Audio with 5.1 Surround Sound
Tracks :
1.

Sharing the World

BIGHEAD

2.

Senbonzakura

WhiteFlame

3.

Kocchi Muite Baby

ryo(supercell)

4.

Koiiro Byoutou

OSTER project

5.

Colorful Melody

Team MOER

6.

Fire◎Flower

halyosy

7.

The Butterfly on My Right Shoulder

Noripy

8.

Melancholic

Junky

9.

Kokoro

Toraboruta

10.

Glass Wall

GuitarHeroPianoZero

11.

Torinoko City

40mP

12.

Musunde Hiraite Rasetsu to Mukuro

HACHI

13.

Romeo and Cinderella

doriko

14.

Piano x Forte x Scandal

OSTER project

15.

Pane dhiria

Shinjou-P

16.

Parades

whoo

17.

Poppippo

LamazeP

18.

The Snow White Princess is

Noboru

19.

Just Be Friends

Dixie Flatline

20.

Luka Luka Night Fever

samfree

21.

Himitsu Keisatsu

Buriru

22.

Yellow

kz(livetune)

23.

World Is Mine

ryo(supercell)

24.

Melt

ryo(supercell)

Encore 1.

Tell Your World

livetune

Encore 2.

Mikumiku ni shiteageru [shiteyanyo]

ika

Encore 3.

Starduster

Jimmy Thumb P
------
Scott Green is editor and reporter for anime and manga at geek entertainment site Ain't It Cool News. Follow him on Twitter at @aicnanime.