24th single ranked 1st in the daily ranking on the release day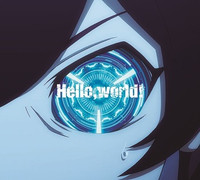 Four-member Japanese rock band Bump of Chicken released their double A-side 24th single "Hello, world!/Colony" on April 22. The former is used as the OP song for the ongoing TV anime Blood Blockade Battlefront, while the latter is featured as the theme song for the live-action film Parasyte: The final Chapter released today in Japan.
The CD single of the songs ranked first in the Oricon daily chart on its first day and second day. It is expected to take the first place in the weekly chart as well. The official YouTube channel of the band has posted the PVs of the songs.
"Hello, world!" short PV
"Colony" full PV
Time limited edition CD jacket
First press limited edition
Regular edition
Artist photo © LONGFELLOW
"Blood Blockade Battlefront" trailer featuring the OP song
"Parasyte: The Final Chapter" teaser featuring the theme song