Directed by Hiroyuki Furukawa (Sin Strange+)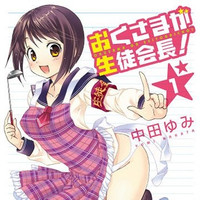 It is officially announced on the June 2015 issue of Ichijinsha's Monthly Comic Rex, published today in Japan, that the upcoming TV anime adaptation of Yumi Nakata's erotic comedy manga Okusama ga Seitokaicho!/My Wife Is the Student Council President! is scheduled to premiere this July. Her 2007-2011 work Chu-Bra!! also got a 12-episode TV anime produced by ZEXCS in 2010.
The manga has been serialized in the magazine since its October 2011 issue and the latest seventh tankobon volume is just released today, April 27. The story centers around Hayato Izumi, the vice president of the student council at Seifuu High School. He was defeated badly by a bishoujo girl Ui Wakana in the election. But after becoming the president, she suddenly comes his house, declaring she will be his wife and they must live together. What he hasn't known is they are fiancés chosen by
their parents.
Tokyo-based company Seven (Ai Mai Mi, Strange+, Inugami-san to Nekoyama-san) animates the adaptation,
while Dream Creation produces the whole project. Hiroyuki Furukawa, who served as the character
designer/animation director for the two Strange+ TV anime adaptations and the director for its second season,
directs the series. Dax Production works on sound production.
Monthly Comic Rex June 2015 issue announcing the TV anime project
Tankobon 1st and 2nd volume
3rd and 4th
5th and 6th
via: Mantan Web
© Yumi Nakata/Ichijinsha