The general advance tickets will go on sale May 25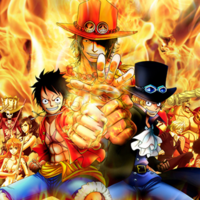 Universal Studios Japan, which is located in Konohana-ku, Osaka-city, has announced details of the ticket release for this summer's "One Piece Premiere Summer 2015" live show, with a one-minute CM. The new show will be performed 73 times from July 3 to September 30, and its story will feature the three brothers of Ace, Luffy, and Sabo.
Pre-sale for holders of Universal VIP Annual Pass or Annual Platinum Pass will begin on May 11, then the general release will follow on May 25. The price for the most expensive S1 seat is 4,980 yen (about 42 US dollars) for an adult over the age of 12 and 3,980 yen (34 US dollars) for a younger audience. More details of the show including its story will be revealed on May 18.
1st CM
Main visual
Highlights from the 2014 show (courtesy of MAiDiGi TV)
Source: Universal Studio Japan via: One Piece. com
(c) Eiichiro Oda/Shueisha, Fuji TV, Toei Animation
(c)&(R) Universal Studios.