She also serves as chairperson of the girls-only open audition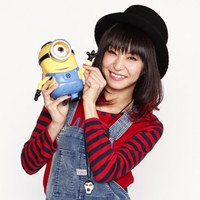 It is confirmed that 27-year-old anison singer LiSA will make her voice actress debut in the Japanese dub edition of the upcoming 3DCG comedy film Minions, which is scheduled to open in Japan on July 31. She, who has been known as a big fan of the character, will voice Marge, the mother of the Nelson family who compete with Minions in a villain convention. She will also serve as chairperson of the girls-only open audition for the Japanese dub. Details will be announced on the film's official Japanese website. Check her interview video with Minions below.
Her next 8th single "Rally Go Round" will be released on May 27 and is featured as the OP theme song for the ongoing TV anime second season Nisekoi:.
Trailer for the Japanbese dub edition
Japanese poster
via: Music Natalie
(c)2014 Universal Pictures.