Plus promo art for SawanoHiroyuki [nZk]'s "XU | scaPEGoat"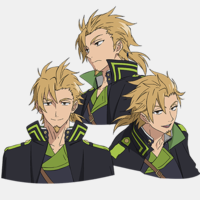 The Seraph of the End site has been updated with another set of preview designs with four characters, including the ones voiced by Daisuke Ono (Black Butler's Sebastian Michaelis ) and Yu Shimamura (Attack on Titan's Annie Leonhart).
Norito Goshi - Daisuke Ono
Norito is a Colonel of the Japanese Imperial Demon Army, and serves as a member of a team led by Guren. He excels in illusion than physical attacks, and covers Guren who mainly fights in close combat. He is sensual and loves beautiful women.
Mito Jujo - Yu Shimamura
Mito is the daughter of the prestigious Jujo family and a member of Guren's Moon Demon Company squad. She is a Colonel with a characteristic crimson-red hair. Mito excels in spellcast techniques transmitted from generation to generation in the Jujo family, which enhances her physical ability in the combat.
Seishiro Hiragi
Seishiro is a member of the Hiragi Family, and a person of influence as a Major General of the Japanese Imperial Demon Army. He is rude and has an offensive personality. Has a strong complex against his older brother Kureto, and secretly planning to outwit his brother one day.
Tenri Hiragi
Tenri is a General reigning at the top of the Japanese Imperial Demon Army, and the absolute being supervising the Hiragi family. He has a savage principle of the survival of the fittest, and is not happy with Guren taking a defiant attitude. He will impose ruthless sanctions to those who threatens the Hiragi family.
also SawanoHiroyuki [nZk] "XU | scaPEGoat" promo posters
And animate character posters

SawanoHiroyuki[nZk] (X.U. & scaPEGoat... by ta_san
And bonus character art
キャラクターデザイン門脇聡さんの落書きを入手! 今後不定期に『落書きのセラフ』を実施! 記念すべき一回目はもちろん主人公優一郎。 今後もアニメでは見れない落書きをアップしていきます! 第5話もお楽しみに! #終わりのセラフ pic.twitter.com/oGGaMIRicL

— 終わりのセラフ公式 (@owarino_seraph) April 25, 2015
アニメ公式サイトに第4話のSTORYと提供イラストを掲載しました! 第4話イラストはコンテ・演出・作画監督をご担当頂いた高岡じゅんいちさんです♪ http://t.co/n6oLPYjy7i #終わりのセラフ pic.twitter.com/WCx8ZOPRHj

— 終わりのセラフ公式 (@owarino_seraph) April 27, 2015
キャラクターデザイン門脇聡さんによる『落書きのセラフ』 2回目はミカエラ! 私服姿は放送では見れない! 次回もお楽しみに! #終わりのセラフ pic.twitter.com/AINZw7d7h5

— 終わりのセラフ公式 (@owarino_seraph) April 29, 2015
-------
Scott Green is editor and reporter for anime and manga at geek entertainment site Ain't It Cool News. Follow him on Twitter at @aicnanime.