Assez Finaud Fabric. and feel. work on anime production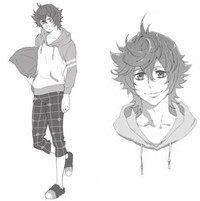 Earth Star Entertainment today launched a teaser site for a new TV anime Makura no Danshi for a July 2015 premiere. It will feature 12 different types of boys each week. They will show viewers a different Soine (sleeping together/bed-sharing) situation in their own way. The only thing they have in common is that all of them live in a same town where they can see the beautiful starry sky. According to the tagline, it will be a "perfect subjective perspective anime with a totally new feeling."
Only announced voice cast is Natsuki Hanae (Ken Kaneki in Tokyo Ghoul). Assez Finaud Fabric. and feel., the two companies recently collaborated for Ketsuekigata-kun!, work on anime production. Yuniko Ayaya (Kin-iro Mosaic) and Ayumi Sekine (WataMote, Wolf Girl and Black Prince) provide scenarios, Mika Yamamoto (Tiger & Bunny The Rising) designs the characters.
TVアニメ『枕男子』2015年7月スタート!ちなみに【まくらのだんし】と読むのです。 花江夏樹さんを初め、毎週違うキャストの皆様が主役を演じます。 さてさて、これからどんどん情報を発信して参りますのでお楽しみに…。 pic.twitter.com/5xyUfIwJPV

— TVアニメ『枕男子』公式 (@makuranodanshi) May 1, 2015
Source: "Makura no Danshi" teaser site
(c) Makura no Danshi Production Committee