The studio's 2013 film "Hinata no Aoshigure" will be co-screened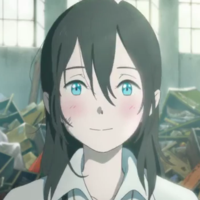 Studio Cororido today posted a one-minute trailer for its upcoming anime film Taifu no Noruda featuring the theme song "Arashi no Ato de" (After the Storm) performed by three-member Japanese rock band Galileo Galilei. The song is mixed by acclaimed British producer Mike Crossey, well known for his works for Arctic Monkeys, The 1975, Two Door Cinema Club, The Black Keys, and Jake Bugg. It will be released as the band's 9th single on June 10.
The film is directed by 26-year-old ex-Studio Ghibli animator Youjiro Arai. Fumiko's Confession's director Hiroyasu Ishida serves as character designer/animation director. It is scheduled to be screened at 20 theaters across Japan together with the studio's 2013 film Hinata no Aoshiogure directed by Ishida from June 5 for a limited time of three weeks.
1st Trailer
Teaser
The story is set in a junior high school in a remote island. On the day before the school festival, the greatest
typhoon ever recorded is approaching the island. Meanwhile, Higashi has a quarrel with his best friend Saijo,
because he has decided to quit playing baseball which he played since he was a kid. Suddenly, he encounters
a mysterious girl with red eyes, named Noruda. She says, "When the whirlpool on the ground, the whirlpool in
the sky, and I are united as one, this planet will be born again...."
Main visual
via: "Taifu no Noruda" official Twitter
(C) Movie "Taifu no Noruda" Production Committee