Directed by Takeo Takahashi (Spice and Wolf, Maoyu)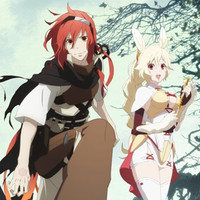 The official website for the upcoming TV anime adaptation of Ishio Yamagata's fantasy light novel series Rokka no Yuusha today updated with anime visuals for its seven main characters designed by Sayaka Koiso (RAIL WARS! chief animation director). The novel series has been published from Shueisha's Super Dash Bunko since October 2011 and now five volumes are available.
The story is set in a world threatened by "Majin" (Evil God) from the bottom of the darkness. When it awakes, the god of destiny will choose six "Yuusha" (braves/heroes) and give them a power to save the world. Adlet Mayer, who calls himself as "The greatest in the world," is chosen as one of the six, but what he finds at the battlefield to stop Majin is seven Yuusha including him, not six. Who is the imposter?
TV anime main staff:
Director: Takeo Takahashi (Spice and Wolf, Maoyu)
Series composition/scenario: Tatsuhiko Urahata (Saki: The Nationals, Black Bullet)
Character design/chief animation director: Sayaka Koiso (RAIL WARS!)
Prop design: Yoshinori Iwanaga (Psycho-Pass, Log Horizon)
Monster design: Tatsuya Fukushima
Music Michiru Oshima (Godzilla against Mechagodzilla, Fullmetal Alchemist)
Anime production: Passione (Haitai Nanafa, RAIL WARS!)
Adlet
Nachetania
Fremie
Hans
Maura
Chamot
Goldov
Main visual
PV ver.0
Covers of the novel 1st and 5th volume
Source: "Rokka no Yuusha" TV anime official website via: Moca
(C) Ishio Yamagata/Shueisha, "Rokka no Yuusha" Production Committee