"The Next Generation -Patlabor-" feature film bombs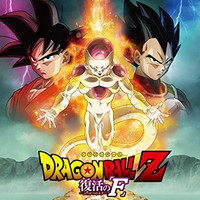 It is confirmed today that the latest DBZ film Dragon Ball Z: Fukkatsu no F (Resurrection of F) had earned an impressive 3.1 billion yen by May 6, only in 19 days from its opening on April 18. It has already surpassed the total theatrical revenue of the previous DBZ film Battle of Gods in Japan, 2.9 billion yen.
Resurrection of F opened on 653 screens with a stunning 960,586,350 yen on 715,727 admissions, which was the biggest opening record of this year, and also was the biggest debut in the anime franchise with 29-year history. Toei expects it will earn over 5 billion yen at the domestic box office.
The 19th Detective Conan film, Sunflowers of Inferno has kept the second place in the weekend box office of May 2-3, for two weeks in a row. It is expected to be the highest grossing Conan film with around 4.5 billion yen, passing the previous record of 4.11 billion yen by the last year's Dimensional Sniper.
While the third chapter of Code Geass: Akito the Exiled, "Kagayaku Mono Ten Yori Otsu" (The Shining
One Falls from Heaven), debuted 10th with only 36 screens, the feature film edition of The Next Generation
-Patlabor- live-action series, Shuto Kessen/Tokyo War, which was released on 230 screens, failed to reach
even top 10 in its first weekend.
Source: Mantan Web, Eiga. com
© Bird Studio, Shueisha/2015 "Dragon Ball Z" Production Committe