Adaptation of sci-fi work coming later this year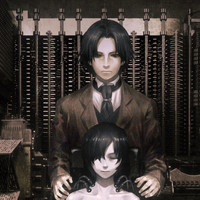 Thursday is Noitamina day and this week they presented a trio of digital wallpapers for their feature anime adaptations of the work of Satoshi Itō, a sci-fi novelist who wrote under the name Project Itoh, and who passed away in 2009 at age 34. Presented with redjuice's illustrations for Genocidal Organ, planned for October, and Harmony, planned for November is a new visual for December's The Empire of Corpses.
Before becoming an established digital artist and web designer, Redjuice worked designing and maintaining cold storage equipment. He has worked with Supercell, including producing the illustration "The World is Mine," as well as Livetune's Re:package, designed character for the TV anime Guilty Crown, and illustrated Satoshi Hase's novel Beatless.
Viz's Haikasoru sci-fi prose label published Harmony and Genocidal Organ novels in English.
Empire of Corpses
Project Itoh's unfinished Empire of Corpses was finished by Akutagawa Prize winner Toh Enjoe. Opening in 19th century London, the historical cyberpunk story follows medical student John Watson, of Sherlock Holmes fame, tracking down Dr Frankenstein's "corpse resuscitation technology."
It won the Nihon SF Taisho Award "Special Award" and Seiun Award.
Staff includes
Director: Ryotaro Makihara (Hal)
Original Character Design: redjuice
Production: WIT STUDIO (Attack on Titan)
Staff includes
Director: Ryotaro Makihara (Hal)
Original Character Design: redjuice
Production: WIT STUDIO (Attack on Titan)
The war on terror exploded, literally, the day Sarajevo was destroyed by a homemade nuclear device. The leading democracies have transformed into total surveillance states, and the developing world has drowned under a wave of genocides. The mysterious American John Paul seems to be behind the collapse of the world system, and it's up to intelligence agent Clavis Shepherd to track John Paul across the wreckage of civilizations and to find the true heart of darkness—a genocidal organ.
Harmony
Original: Project Itoh
Director: Takashi Nakamura (Fantastic Children, Akira animation director and character designer), Michael Arias (Tekkon Kinkreet)
Original Character Design: redjuice
Animation Production: STUDIO4 ℃ (Tekkon Kinkreet, Berserk movies)
In the future, Utopia has finally been achieved thanks to medical nanotechnology and a powerful ethic of social welfare and mutual consideration. This perfect world isn't that perfect though, and three young girls stand up to totalitarian kindness and super-medicine by attempting suicide via starvation. It doesn't work, but one of the girls—Tuan Kirie—grows up to be a member of the World Health Organization. As a crisis threatens the harmony of the new world, Tuan rediscovers another member of her suicide pact, and together they must help save the planet...from itself.

------
Scott Green is editor and reporter for anime and manga at geek entertainment site Ain't It Cool News. Follow him on Twitter at @aicnanime.