Directed by Shingo Natsume (Space Dandy)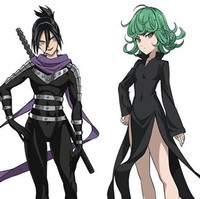 The official website for the upcoming TV anime adaptation of action comedy manga One-Punch Man created by ONE (original story) and Yusuke Murata (art) today announced two additional cast for Onsoku no Sonic (Speed of Sound Sonic) and Senritsu no Tatsumaki (Tornado of Terror). Makoto Furukawa (Kamito Kazehaya in Bladedance of Elementalers) is already set to play the protagonist Saitama, alongside Kaito Ishikawa (Tobio Kageyama in Haikyu!!) as his self-proclaimed disciple Genos. Its on-air schedule has not been yet announced.
29-year-old Yuuki Kaji, best known as Eren Yeager in Attack on Titan, will voice "The Strongest Ninja" Onsoku no Sonic.
「ワンパンマン」音速のソニックを演じるのは梶裕貴さん!暗殺から用心棒まで何でも請け負う、自称「最強の忍者」です! http://t.co/ZEx0x1ZFAM #onepunchman pic.twitter.com/Ch3W5ilYFV

— TVアニメ「ワンパンマン」公式 (@opm_anime) May 8, 2015
Aoi Yuuki, whose most famous anime character is Madoka Kaname in Puella Magi Madoka Magica,
will voice S-rank esper Senritsu no Tatsumaki.
「ワンパンマン」戦慄のタツマキを演じるのは悠木碧さん!ヒーロー協会Sランクのヒーロー。超自然的な力で怪人を倒すエスパーです! http://t.co/ZEx0x1ZFAM #onepunchman pic.twitter.com/AZbthcxJ8O

— TVアニメ「ワンパンマン」公式 (@opm_anime) May 8, 2015
1st PV
Main staff:
Director: Singo Natsume (Space Dandy)
Series composition: Tomohiro Suzuki (Saint Seiya Legend of Sanctuary)
Character design: Chikashi Kubota (From the New World, Robotics;Notes)
Anime production: Madhouse (Parasyte -the maxim-)
Anime main visual
Manga tankobon 1st and 2nd volume
Source: "One-Punch Man" TV anime official website, Twitter
© ONE, Yusuke Murata/Shueisha, Hero Kyoukai Honbu