Store exclusives announced this week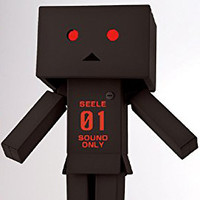 This fall, Neon Genesis Evangelion marks its 20th anniversary and part of the celebration is an August release of an HD remaster of the original TV series and movies. The Golden Week hype for this continues with retailers revealing their exclusive bonuses, and the highlight among those is a reproduction of Revoltech's Yotsuba&! inspired Danbo cardboard box robot in SEELE colors from Amazon.
【予約受付中】『新世紀エヴァンゲリオン』http://t.co/xsBnfqfbUf限定版特典が #ダンボー と #エヴァンゲリオン がコラボした「ゼーレダンボー」に決定!⇒ http://t.co/AgwLBcpUfp pic.twitter.com/hzhr1rMNzH

— Amazon.co.jp DVDストア (@AmazonJPmvd) May 8, 2015
Other bonuses include:
Raakuten BOOKS - set of five character cards
7-Eleven -Asuka nanaco card
Evangelion Store - script reproduction. first episode with Blu-ray and finale with DVD
NTV - thermos mug
Animate - SEELE sound only speekers
HMV - Rubik's cube
TUTAYA online - clearfiles
Gamers - B6 size Rei quotation
Neowing - Rei mini mousepad
KING e-SHOP - tea cup
Sofmap - A4 binder
Toranoana - glass
Bunkyodo Hobby & Animega - Kaworu tote bag
Shinseido WonderGOO - cross motif cleaner
Chara - illustration canvas
Chara-Ani - QUO card (500 yen)
Circle K Sunkus Art Canvas (Blu-ray) and phone card (DVD)
Happinet online - frame illustration
via via @ultimatemegax...
Two versions are due out in Japan on August 25th at 38,000 Yen for the Blu-rays and 18,000yen for the DVDs.
"Neon Genesis Evangelion" Blu-ray Box:
"Neon Genesis Evangelion" - HD Remastered
Combines episodes 1-26 and 21'-24'

Evangelion Death and Rebirth - HD master
- First time Death will be released on video

The End of Evangelion - HD master (can play with the Love and Pop extra after the film)

Revival of Evangelion - HD master
- Death(True)2/Love is Destructive/ONE MORE FINAL: I need you
The Evangelion BD-Box consists of 9 discs and a booklet in special packaging. The official runtime is 900 minutes plus bonus footage.


Bonus footage include image board collection, dubbing rush video, TV spots for the airing, textless OP/ED, Genesis 0:0 (both volumes), promotional videos/CMs, Episode 26 live action portion, TV series 30s preview, movie trailer/teasers, and dubbing scripts. Additionally there are the promotional videos edited by Masayuki for the OP/ED, Soul's Refrain, Thanatos, Armageddon, and Memories of Paradice.


Additionally, a 5.1 surround sound BGM collection of 22 tracks will be offered.
The details of the hardcover book are not disclosed. No English subtitles/audio are mentioned.


Archives of Evangelion: Neon Genesis Evangelion Broadcast version DVD-box

Neon Genesis Evangelion (On air version)
Episodes 1-26 as they aired on TV.
- First time released on video

Evangelion: Death (True) and Rebirth (TV broadcast version)
- First time Death(True) was released on video
The DVD-Box will have the on-air versions of the 26 episodes and the EVANGELION: DEATH(TRUE) & REBIRTH movie on 8 discs. It will have the two specials covering the movie as bonus footage. It too will have a booklet.
------Scott Green is editor and reporter for anime and manga at geek entertainment site Ain't It Cool News. Follow him on Twitter at @aicnanime.