Miyuki, Tsukasa, Kagami figures will be added soon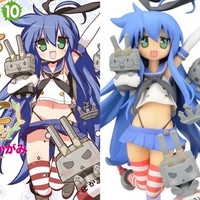 From late next month, Sega Prize starts offering collaboration prize figures between Kagami Yoshimizu's four-panel comedy manga Lucky Star and Kadokawa Games' Kantai Collection/Kancolle web browser game in Japanese game arcades.
Back in November 2013, the 10th tankobon volume of Lucky Star was released with a special collaboration cover with Kancolle featuring Konata in destroyer Shimakaze cosplay, and the first 15cm figure from Sega Prize is based on the illustration. May 28 is, by the way, Konata's birthday. According to the promotional image below, Miyuki Takara in destroyer Miyuki cosplay, Tsukasa Hiiragi in heavy cruiser Haguro Kai Ni, and Kagami Hiiragi in aircraft carrier Kaga will join the lineup soon.
Promotional visual
"Lucky Star" 10th volume limited cover
Source: Sega Prize via Netlabo
© Kagami Yoshimizu/KADOKAWA
©2015 DMM.com POWERCHORD STUDIO / C2 / KADOKAWA All Rights Reserved.