"A Chivalry of a Failed Knight" staff also announed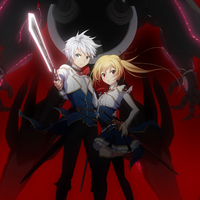 This weekend, the casts of Is It Wrong to Try to Pick Up Girls in a Dungeon?, When Supernatural Battles Became Commonplace and Nyarko-san took the stage at Kanagawa Prefectural Music Hall to celebrate the 10th anniversary of light novel imprint GA Bunko (established in January 2006). The festival introduced new details for the previously announced A Chivalry of the Failed Knight, as well as newly announced Undefeated Bahamut Chronicle and Hundred TV anime productions.
Riku Misora and Won's GA Bunko light novel series Rakudai Kishi no Eiyuutan/A Chivalry of a Failed Knight. The series follows a would-be Mage-Knight held back in school after ranking at the bottom of his class, paired with a beautiful, genius princess after the school changes its rules to pair compatible students.
Director: Shin Oonuma (Fate/kaleid liner Prisma Illya, Watamote)
Series Director: Jin Tamamura (Watamote episode director)
Series configuration: Shogo Yasukawa (Terraformars)
Character design: Sei Komatsubara (animator)
Sound Director: Jin Aketagawa (Magic Capsule)
Animation Production: SILVER LINK./NEXUS
Cast:
Ikki Kurogane : Ryota Ohsaka
Stella Vermillion : Shizuka Ishigami
Shizuku Kurogane : Nao Tōyama
Nagi Arisuin : Shintarō Asanuma
Senri Akatsuki and Ayumu Kagua's Undefeated Bahamut Chronicle follows the prince of an empire by overthrown by revolt, who meets a series of nobile girls, starting with princess of the new kingdom, when he breakes into the bathroom of the girls' dormitory
Director: Masaomi Ando (White Album 2)
Series configuration: Yuuko Kakihara (Kids on the Slope)
Character design: Keiko Kurosawa (Re: Hamatora)
3DCG production: Orange
Animation Production: Lerche
Before the anime adaptation, Jun Misaki and Nekosuke Ookuma(Nitroplus)'s mecha/martial artists harem light novel series Hundred is getting a scheduled to be released with volume 8 on August 16th
Cast on the drama CD includes
Kisaragi Hayato: Yoshiaki Hasegawa
Emile Crossford: Rumi Okubo
Claire Harvey: M · A · O
Fritz Grants: Wataru Hatano
Kirishima Sakura: Mayu Yoshioka
Kisaragi Karen: Kaya Okuno
Leitia Saint Emilion: Yuka Otsubo
Liddy Steinberg: Rika Kinugawa
Erika Candle: Yui Makino
Charlotte Dimandias: Miyu Matsuki
Mei Mei: Ayaka Imamura
-------
Scott Green is editor and reporter for anime and manga at geek entertainment site Ain't It Cool News. Follow him on Twitter at @aicnanime.