999-limited items will be shipped in late August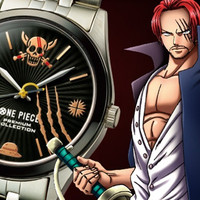 Imperial Enterprise has started offering a new limited One Piece official wristwatch "Shanks x Luffy: Chikai ni Kouro (The Passage of the Oath)" from their One Piece Premium Collection since May 11. As the name suggests, its design is inspired by the oath between Shanks and Monkey D. Luffy in the beginning of the story.
Its clock face has the Red Hair Pirates flag, the scars on Shanks' face, and the straw hat Shanks gave to Luffy, while its backside also features the scene Shanks gave his straw hat to Luffy. The set includes a special leather box with a message card from the anime voice actor of Shanks, Shuichi Ikeda. The price for the 999-limited watch is 29,800 yen (about 248 US dollars), and scheduled shipping date is in late August.
You can choose from a metal or leather band
Source: press release
© Eiichiro Oda/Shueisha/Fuju TV/Toei Animation