Directed by Masahiko Ohta (Yuruyuri, Sabagebu!)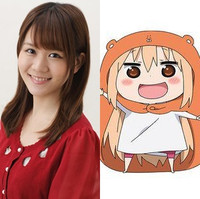 The official website and Twitter for the upcoming TV anime adaptation of Sankaku Head's comedy manga series Himouto! Umaru-chan announced the voice cast for its four main characters. Aimi Tanaka, who is currently playing small roles in Wish Upon the Pleiades and Yamada-kun and the Seven Witches, will play the protagonist Umaru Doma as her first lead role in her three-year anime VA career. The Masahiko Ohta (Yuruyuri, Sabagebu!)-directed TV anime is set for this July.
The manga has been serialized in Shueisha's Weekly Young Jump since 2013 and now five tankobon volumes are available in Japan. The story is set in Hachiouji-city in Tokyo and centers around a high school girl Umaru Doma and her older brother Taihei. While being a good-looking honor student who can do everything at school, Umaru turns a super lazy girl who does nothing except playing video games and eating her favorite junk foods at home.
Umaru Doma: Aimi Tanaka
うまるちゃんの設定画が何だかやたらぼやけてしまったので再度! 公式サイトはコチラ↓ http://t.co/2ppKZbXa7s #umaru_anime pic.twitter.com/GYlVcyNnHm

— TVアニメ『干物妹!うまるちゃん』 (@umaru_anime) May 14, 2015
Nana Ebina: Akari Kageyama
海老名菜々(CV.影山灯)/うまるのクラスメイト。秋田出身で、うまると同じアパートの1階に住んでいる。照れ屋で引っ込み思案ながら優しい性格と強靭な胃袋の持ち主。 #umaru_anime pic.twitter.com/2xIUUStQvN

— TVアニメ『干物妹!うまるちゃん』 (@umaru_anime) May 14, 2015
Aimi Tanaka, Akari Kageyama
Kirie Motoba: Haruka Shiraishi (Ronia in Ronia the Robber's Daughter)
本場切絵(CV.白石晴香 )/うまるのクラスメイト。無口でいつも睨むような目つきをしており、クラスで浮いている。実は極度の人見知り。 #umaru_anime pic.twitter.com/6611IC6S2k

— TVアニメ『干物妹!うまるちゃん』 (@umaru_anime) May 14, 2015
Sylphynford Tachibana: Yurina Furukawa
橘・シルフィンフォード(CV.古川由利奈)/うまるのクラスメイト。何かとうまるをライバル視して勝負を挑む。良家のお嬢様で目立ちたがり(?)だが、どこか天然な一面も。#umaru_anime pic.twitter.com/x1YAL6usGE

— TVアニメ『干物妹!うまるちゃん』 (@umaru_anime) May 14, 2015
Haruka Shiraishi, Yurina Furukawa
Main visual
Source: "Himouto! Umaru-chan" TV anime official website, Twitter, Comic Natalie
© Sankaku Head/Shueisha
© Sankaku Head/Shueisha, "Himouto! Umaru-chan" Production Committee