Next concerts in Sendai are scheduled to be held as planned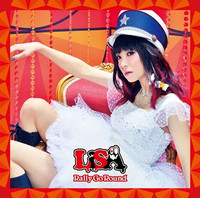 27-year-old anison singer LiSA started her 2015 concert tour "LiVE is Smile Always~Launcher~" in Osaka on April 29 and 30. After performing eight sold-out shows, she was forced to postpone the two concerts in Nagoya this weekend, May 15 and 16, due to acute bronchitis.
She got high ever before dawn on May 14. After having a medical examination in an emergency hospital, she was diagnosed as having acute bronchitis and was subsequently admitted to the hospital for treatment. The substitute schedule will be announced no later than May 20. As of now, her next concerts in Sendai on May 22 and 23 are scheduled to be held as planned.
Her next 8th single "Rally Go Round" CD jacket (May 27 release)
First pres limited edition
Regular edition
Source: LiSA official website via: Music Natalie