The latest video previews the 3DS release of "Atelier Rorona"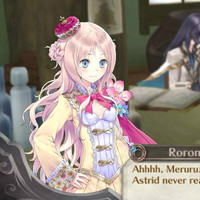 Gust Corporation is releasing Atelier Rorona Plus: The Alchemist of Arland on Nintendo 3DS, and as such as put out a brand new trailer demonstrating the brand-new Atelier Astrid mode, as well as the game's other character interactions and general gameplay.
The game isn't set to ship until June 4 in Japan, but will be well worth the wait, as those who purchase first copies will get a custom them. If you chooose to get a retail version, you can get the "premium box," which includes a small tapestry, character charms, a cleaner cloth pouch, and a box to keep it all in.
The North American version has already been released, but Japanese players can get started next month. Have you already been giving it a try?
[via Anime News Network]
-------
Fueled by horror, rainbow-sugar-pixel-rushes, and video games, Brittany is a freelancer who thrives on surrealism and ultraviolence. Follow her on Twitter @MolotovCupcake and check out her portfolio for more.