First six episodes go live tonight for Premium users at 8pm PDT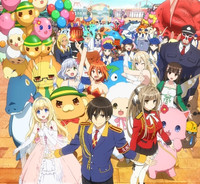 Crunchyroll is proud to announce yet another addition to its catalog in Amagi Brilliant Park, produced by Kyoto Animation and adapted from the light novel series of the same name.
The romantic comedy centers around a mysterious but pretty transfer student, Sento Isuzu, who asks Kanie Seiya out on a date to an amusement park. That park was Amagi Brilliant Park, featuring worn-down attractions and lackluster service -- the worst in Japan. The series focuses on the adventures both have while attending the park and even after their date. Will they be able to save the park from its poor reputation?
The series is exclusively available to Premium members in the United States and Canada starting tonight with the first six episodes, while Free members will be able to watch one week later. The next six episodes will go live next Wednesday for Premium users, with Free members being able to watch them the week after. Who's excited to check out Amagi Brilliant Park?