Her 22nd single "Arigato, Daisuki" hits stores June 24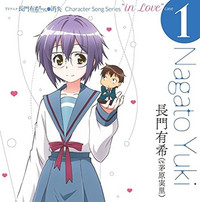 Lantis has posted a 100-second short music video for "Arigato, Daisuki," the ED song for the ongoing TV anime Nagato Yuki-chan no Shoshitsu/The Disappearance of Nagato Yuki-chan, performed by Minori Chihara, the voice actress of Yuki Nagato in the show. She has been playing the caracter since the first TV anime series The Melancholy of Haruhi Suzumiya in 2006, as well as others. The song will be released as her 22nd single on June 24.
"Arigato, Daisuki" short MV
The first two entries of the five character song single CD serirs titeled "in Love" are sung by her and
Natsuko Kuwatani as Ryoko Asakura, respectively, and both are set for a release on May 27. Check the
release schedule below.
Vol.1: Yuki Nagato (Minori Chihara) - May 27
Vol.2: Ryoko Asakura (Natsuko Kuwatani) - May 27
Vol.3: Mikuru Asahina (Yuko Goto) - June 24
Vol.4: Tsuruya-san (Yuki Matsuoka) - June 24
Vol.5: Haruhi Suzumiya (Aya Hirano) - July 22
In addition, the first DVD/Blu-ray volume containing the first two episodes will be released on June 26.
Blu-ray limited edition jacket illustration
DVD limited edition jacket illustration
Source: Lantis
(C)2015 Nagaru Tanigawa, Noizi Ito, Puyo/KADOKAWA Kadokawa Shoten/Kita High School Literature Club
(C) M-Peace Inc.