Limited edition Blu-Ray boxset goes up for pre-order Tuesday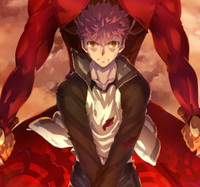 Aniplex of America has detailed the coontents of the second Fate/Stay Night Unlimited Blade Works Limited Edition set along witth pre-order bonuses for pre-ordering through US retailers. The limited Blu-Ray boxset will go up for pre-order on Tuesday May 26th. The set will retail for $398.98 from RightStuf and selected retailers, with the release slated for October 7th.
The boxset will feature artwork from character designer Takashi Takeuchi and the contents will consist of 5 Blu-ray discs with the teaser & commercial collection, with clean versions of both the opening and ending sequences also included. The set also includes a soundtrack CD, drama CD and the exclusive deluxe booklet containing staff interviews and production materials.
Those that order directly from the Fate/Stay Night USA site will get an exclusive wall scroll illustrated by Takeuchi and those ordering from authorized retailers get a book translating the deluxe production book included in the set.
---
Humberto Saabedra is the Owner of AnimeNews.biz, Editor-in-Chief of PhoneNews.com and a part-time recording engineer. He can also be found musing on things (and Nico Robin) at @AnimeNewsdotbiz