Rie Murakawa (Hotaru Ichijo in Non Non Biyori) voices Atom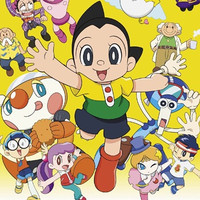 It is confirmed that Amazon Japan has listed a DVD of Robot Atom/Little Astro Boy for a release of November 3, 2015. The fourth remake anime series was aired for eight 12-minute episodes in Nigeria from March to April in 2014. Its target audience was kids under six years of age. Tezuka Productions co-produced it with Channels TV, the third largest TV station in the African country.
It has never been aired in Japan. Makoto Tezuka, the eldest son of Osamu Tezuka, served as general director, with director Masayoshi Nishida (storyboards for Puella Magi Madoka Magica, Tantei Kageki Milky Holmes TD). The 96-minute disc comes with English and Japanese audio track, Japanese subtitles. The listed price is 3, 780 yen (about 31 US dollars).
Japanese voice cast:
Atom: Rie Murakawa (Hotaru Ichijo in Non Non Biyori)
Pikko: Yuuka Nakatsukasa (Dai in Hime Chen! Otogi Chikku Idol Lilpri)
Reggie: Masami Kikuchi (Keiichi Morisato in Oh My Goddess!)
Tack: Mayumi Yamaguchi (Forte Stollen in Galaxy Angel)
Kinako: Ai Fukada (Touri Fueyama in Ai Tenchi Muyo!)
Ken: Asami Tano (Akane Hino/Cure Sunny in Smile PreCure!)
Mitchy: Chuna (Kii Saegusa in Aikatsu!)
Paul: Yuka Terasaki (Raquel in Dokidoki! PreCure)
Hamegg: Riki Kitazawa (Yui's father in K-ON!)
Dr.Fular: Tsuyoshi Aoki (Skillout in A Certain Scientific Railgun S)
Golar: Daisuke Egawa (Nahato in Blade & Soul)
Pato-nee: Kentaro Tone (Tetsu Hattori in Bakuman.)
Speed Joe: Katsuyuki Konishi (Kamina in Tengen Toppa Gurren Lagann)
Episode list:
1. Astro Becomes a Racer
2. Recycling Gone Wild
3. Astro Goes to Space
4. We Love Cleaning
5. Fly! Mitchy
6. Heart on Fire
7. I'm Moler,You See?
8. Astro and The 5 Adventures
Main visual
DVD package
Source: Amazon Japan, Nikkei