Directed by Takaomi Kanasaki (Is This a Zombie?, Tokyo Ravens)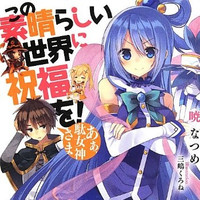 Kadokawa today announced that a TV anime adaptation of Natume Akatsuki's fantasy comedy light novel series Kono Subarashii Sekai ni Shukufuku o! (Gifting this Wonderful World with Blessings!) is in the works by Studio Deen (pupa, Bakumatsu Rock).
It has been published from Kadokawa Sneaker Bunko imprint since October 2013. The main series currently has six volumes, while the latest third volume of its spin-off series is scheduled to be released on May 30. Kurone Mishima has provided illustrations for the novel series. A manga adaptation illustrated by Masahito Watari has been serialized in Monthly Dragon Age since its October 2014 issue and one tankobon volume is available now.
The story follows a hikikomori (people who refuse to leave their house/room and isolate themselves from society) boy Kazuma Sato who loves playing games. After he was killed in a traffic accident, a
bishoujo girl named Aqua who claims to be a goddess appears to offer him a new life in a different world.
She says he can bring one of his favorite things with him, and what he chooses is Aqua herself. Then his
new life to earn a living with her in a new world begins.
Takaomi Kanasaki (Is This a Zombie?, Tokyo Ravens) attaches to direct the TV series with character designer
Kouichi Kikuta (key art animator for Nisekoi, Yurikuma Arashi). Makoto Uezu (Assassination Classroom, The
Heroic Legend of Arslan) works on series composition.
Novel main series 1st and 2nd volume
3rd and 4th
5th and 6th
Source: Kadokawa
© Natume Akatsuki, Kurone Mishima/KADOKAWA CORPORATION 2015