4th and 5th season theme songs hit stores tomorrow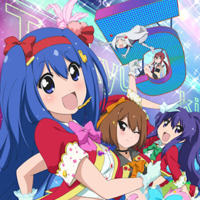 The official website and Twitter for the TV anime series based on Roots and Piyo's comedy manga series Teekyu today posted a key visual for the upcoming fifth season which is scheduled to premiere on Tokyo MX at 25:05 and on Sun TV at 25:30 on July 6. The current fourth season has been aired since April 7.
Fifth season key visual
【ヴィジュアル公開】てーきゅう5期新ヴィジュアル公開です!かんわいいいーッ♡ 世はまさにアイドル大戦国時代…! とはいえ、みんな...おなか冷やさないでねっ...(*´﹃`*)はらはら pic.twitter.com/alHu5QyxlE

— 5期は7月から!てーきゅう&なすの公式 (@te_kyu) May 26, 2015
The theme song for the fifth season, "Qunka!," is sung by popular voice actress Kana Hanazawa as Marimo
Bando. It is written/composed/arranged by Yashikin, who also worked on the theme song for the ongoing
fourth season, "Fa tto Shite Tougenkyo" by Mimori Suzuki, and theme song for the spin-off series Takamiya
Nasuno Desu!, "Ougon no Kinderella ~Gozen 0-ji ni Mahou wa Tokezu~" by Kyoko Narumi. The three CD
singles will be released simultaneously in Japan tomorrow, May 27.
"Qunka!" preview including a CM for the fourth season OP song and announcement for the fifth season
Fifth season OP song CD single jacket
Fourth season theme song CD jacket
"Takamiya Nasuno Desu!" theme song CD jacket
Source: "Teekyu" TV anime official website
© Roots/Piyo/Earth Star Entertainment/Kameido High Tennis Club
© Aniplex Inc.