Yumi Shimizu (Locodol) designs their anime version characters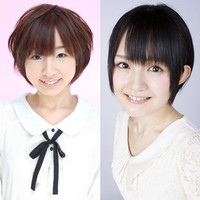 It was confirmed yesterday that an internet radio program SuzakiNishi, featuring anime voice actress Aya Suzaki and Asuka Nishi, gets a TV anime adaptation. It has been broadcasted on Bunka Housou's Cho! A&G+ at 25:00 every Tuesday since July 2013, and currently its 99th episode is available. The program focuses on discussions on ideas and namings for various new products, projects, and services. The two also try job training programs to create new business scheme.
Suzaki is best known as Tamako Kitashirakawa in Tamako Market and its sequel film Tamako Love Story, and is currently playing Kaede Kayano in Assassination Classroom, Tsumugi Shiraui in Knights of Sidonia: War of the Ninth Planet, and Kuroe Roro in Is It Wrong to Try to Pick Up Girls in a Dungeon?. Nishi's most well-known anime character is Shinobu Omiya in the Kin-iro Mosaic TV anime series, and is now playing her in the second season Hello!! Kin-iro Mosaic.
SuzakiNishi The Animation is produced by feel.(In Search of the Lost Future, My Teen Romantic Comedy
SNAFU TOO!). Suzaki and Nishi will appear as anime character versions of themselves designed by Yumi
Shimizu (Locodol), and will also perform the theme song as the unit "SuzakiNishi." The Kidai Hiramine
(Locodol episode director)-directed TV anime will premiere on Tokyo MX, TV Kanazawa, and Sun TV this July.
Aya Suzaki and Asuka Nishi
via: Mantan Web