Directed by Kazuhide Tomonaga ("The Plot of the Fuma Clan" character designer)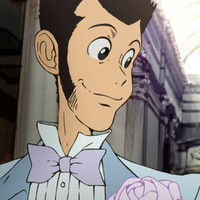 Some details about the first episode of the upcoming new Lupin the Third TV anime series, including a new female character Rebecca Rossellini who appears in the first PV, have been revealed to Japanese media. The story begins when Inspector Zenigata receives an invitation from Lupin for his wedding ceremony with Rebecca.
According to the description, she is a young lady who is the president of one of the representative companies in the Republic of San Marino. She has also been active as an actress and fashion model, getting a reputation as a world famous gossip queen who has had love affairs with celebrities. Meanwhile, she has a secret which she can't reveal to anyone. Will she be a new heroine in place of Fujiko?
The new series is set in the Republic of San Marino and is scheduled to premiere on RTI in Italy in May,
then on Nihon TV in Japan in fall. Kazuhide Tomonaga, who served as the character designer for the 1987
film The Plot of the Fuma Clan, directs it for TMS Entertainment.
1st PV
Main visuals
via: Comic Natalie
Original Story: Monkey Punch©TMS