Trilogy anime film project featuring new voice cast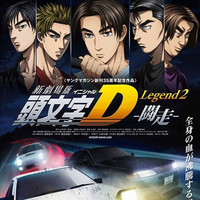 Following the first one in August 2014, the second chapter of the trilogy anime film project based on Shuichi Shigeno's street car racing manga, Shin Gekijo-ban Initial D: Legend 2-Tousou-, was released on 30 screens across Japan on May 23. Though didn't make it to the Top 10 (the first one ranked 11th), it earned 25,398,300 yen in its first weekend. Its per-screen average, 846,610 yen was the highest among the top 15 films.
The top-grossing film of the weekend was Kenneth Branagh's latest live-action adaptation of Charles Perrault's fairy tale, Cinderella, which made 246,594,800 yen on 354 screens in its fifth weekend. The film's total revenue in Japan has reached an impressive 4.5 billion yen.
60-second trailer
Poster visual
via: Akiba Sokuhou
© 2014 Shin Gekijo-ban "Initial D" Production Committee