New web radio series will start streaming simultaneously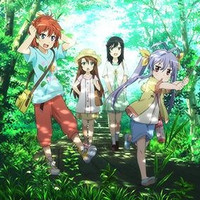 Following the 2nd PV featuring the scenery with a Japanese children's song "Kaeru no Uta/The Frog's Song," the official website for the upcoming TV anime second season Non Non Biyori Repeat today updated with a summer-themed new main visual, announcing its premiere schedule in Japan.
Premiere schedule:
July 6: TV Tokyo (26:05-), TV Aichi (27:05-)
July 8: TV Osaka (26:35-)
July 9: AT-X (23:00-)
In addition, it is also confirmed that a new season of the web radio series hosted by its voice actresses
will start streaming simultaneously. The first season by Rie Murakawa (Hotaru Ichijo) and Ayane Sakura
(Natsumi Koshigaya) was streamed for 21 episodes from October 1, 2013, to February 25, 2014 on Onsen
and Lantis Web Radio. More details including its hosts and stations will be revealed soon.
New main visual
2nd PV
1st PV
2nd season 1st main visual
Source: "Non Non Biyori Repeat" official website
© 2015 Atto, Media Factory/Asahigaoka Bunkou Kanri Kumiai