Pyonkichi will be portrayed with the latest technology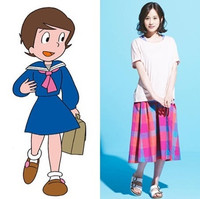 Following Kenichi Matsuyama as the protagonist Hiroshi, the rest of the main cast for the upcoming TV drama adaptation of Yasumi Yoshizawa's classic comedy manga in the 1970s, Dokonjo Gaeru (Gutsy Frog), are revealed to Japanese media today. It is confirmed that 23-year-old ex-member of Japanese idol group AKB48, Atsuko Maeda will play the main heroine Kyoko.
The first manga series was serialized in Shueisha's Shonen Jump from 1970 to 1976, then followed by a short-lived sequel Shin Dokonjo Gaeru in 1981-1982. It got two TV anime adaptations, the first was produced by Tokyo Movie in 1972-1974, the second by TMS Entertainment in 1981-1982. While the original manga/anime series were set in the time when they were written/produced and featured Hiroshi whose age was 14, the TV drama will tell its 16 years later, the summer of 2015. Kyoko is now 29 years old and has already experienced a divorce.
The TV drama will be aired on Nihon TV and its affiliates at 21:00 on every Saturday from this July.
Kyoko in the original anime and Atsuko Maeda
Hiroshi and Kenichi Matsuyama
Main cast:
Hiroshi: Kenichi Matsuyama
Kyoko: Atsuko Maeda
Goro: Ryo Katsuji
Ume-san: Ken Mitsuishi
Machida-sensei: Denden
Yoshiko-sensei: Yuri Shirahane
Goriraimo: Hirofumi Arai
Hiroshi's mother: Hiroko Yakushimaru
Kyoko's grandmother: Kayoko Shiraishi
via: Comic Natalie
(c) Yasumi Yoshizawa/Office Yasui