OP song for "Akagami no Shirayuki-hime" TV anime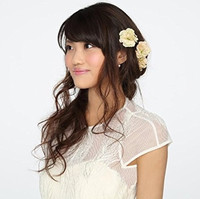 Warner Entertainment Japan has posted a short version music video for 24-year-old voice actress Saori Hayami's solo debut single "Yasashii Kibou" (Tender Hope) on its official YouTube channel. It will be used as the OP song for the upcoming TV anime adaptation of Sorata Akizuki fantasy shoujo manga Akagami no Shirayuki-hime/Snow White with the Red Hair, in which she will also voice the protagonist Shirayuki.
She made her professional anime voice actress debut in 2007 as Momoka Kawakabe in Touka Gettan, and has been known for her portrays as Ikaros in Sora no Otoshimono, Miho Azuki in Bakuman., and Ayase Aragaki in Ore no Imouto ga Konna ni Kawaii Wake ga Nai. Her first non-character song single "Yasashii Kibou" hits Japanese stores on August 12.
The Akagami no Shirayuki-hime TV anime is set premiere in Japan on July 6.
"Yasashii Kibou" short MV
Saori Hayami
TV anime key visual
1st PV
Source: Saori Hayami official website
© 2015 Warner Bros. Entertainment Inc.
© Sorata Akizuki, Hakusensha/"Akagami no Shirayuki-hime" Production Committee