TV anime 5th season will premiere on July 6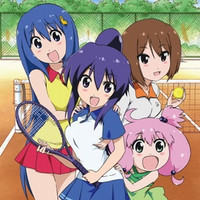 It is officially confirmed today that a stage play adaptation of Roots and Piyo's comedy manga series Teekyu is in the works for this summer. Its official website also launched today, announcing its schedule. The play is titled as "Butai-ban Teekyu Senpai to Meguriau Jikantachi" (Stage Play Edition Teekyu: Senior Students and The Times to Come Across), and its story features a musical performed by Yuri, Kanae, Marimo and Nasuno at Kameido High School's Cultural Festival.
It is planned to be performed eight times at Japan Newart College Omori Campus Theater in Tokyo from July 29 to August 2. DAX Production and Media Gate will co-produce the project. More details including its cast and staff will be announced early this month.
The manga has been serialized in Earth Star Entertainment's Comic Earth Star since its March 2012 issue and now nine tankobon volumes are available. MAPPA produced its first four TV anime adaptations,
and the fifth season produced by Millepensee will premiere on July 6.
Tankobon 1st voume cover and anime main visual
via: Comic Natalie
© Roots/Piyo/Earth Star Entertainment/Kameido High Tennis Club