"Mega Man Star Force" and "The Candidate for Goddess (Pilot Candidate)" also start streaming on Hulu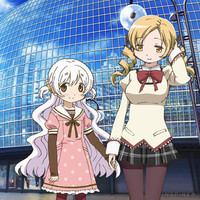 With the start of June, streaming service Netflix has added 6 new anime titles and removed 5 for a total of 77 anime/movies. Among the notables are the Puella Magi Madoka Magica movies (recaps Beginnings and Eternal and original Rebellion) and Expelled from Paradise, the sci-fi collaboration anime film between Toei Animation and Nitroplus directed by Seiji Mizushima (Fullmetal Alchemist, Mobile Suit Gundam 00) with Gen Urobuchi (Madoka Magica), from Aniplex. The content is available in English subtitled and dubbed formats.
Elsewhere, Bandai Visual has presented 2000 sci-fi anime The Candidate for Goddess (Pilot Candidate) on Hulu. They describe the series:
In the year 4088 S.C., after the fall of their home planet caused by "the crisis of systems", which had damaged four planetary systems, Mankind escaped to space. But yet, only the planet "ZION" was left, and their unidentified enemy called "VICTIM" has attacked "ZION". The ultimate weapon to beat them is "GODDESS", 5 robots in the shape of women that can only be controlled by teenagers who have ESP power…. ZERO-ENNA is a new face in "G.O.A." (the training organization for pilots of GODDESS). Now he is about to make a new start as "The Candidate For Goddess". In an environment of intense rivalry between other Candidates, challenging training in simulation robots, and a growing friendship with the repair girl of his robot…ZERO gradually grows up as a pilot and as a man.
Viz's Neon Alley has also started offering Mega Man Star Force
The year is 22XX. JAXA, the space science lab, discovers a planet where extraterrestrials live. A space satellite is launched to establish friendly relations with the planet, but the satellite is destroyed in an accident of unknown cause. Contact with the planet fails. Subaru's father was on the satellite… Since the disappearance of his father, Subaru is scared to communicate with people.
Season 1, Episodes 1-13 are available to stream in their entirety with dubbed English dialogue.
via @NetflixAnime and @WTK
------
Scott Green is editor and reporter for anime and manga at geek entertainment site Ain't It Cool News. Follow him on Twitter at @aicnanime.