"-Un Nouveau Voyage-" will open in Tokyo on September 18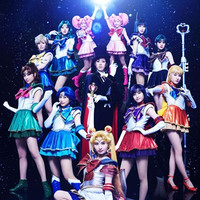 The Sailor Moon 20th anniversary project official site's musical section today posted a main visual for the next Sailor Moon musical, "-Un Nouveau Voyage-," which tells the Death Busters arc of the Sailor Moon saga, also announcing the new cast for Uranus, Neptune, and Saturn.
Sailor Uranus/Haruka Tenoh:
Shu Shiotsuki (ex-Takarazuka Revue "otokoyaku/male role" performer)
Sailor Neptune/Michiru Kaioh:
Sayaka Fujioka (ex-Takarazuka Revue "musumeyaku/daughter's role performer)
Sailor Saturn/Hotaru Tomoe:
Karin Takahashi (a member of girls idol group Prizmmy☆)
"-Un Nouveau Voyage-" will be the final show for the current cast members of the five sailor soldiers:
Satomi Okubo (Sailor Moon), Momoyo Koyama (Sailor Mercury), Kanon Nanaki (Sailor Mars), Yu Takahashi
(Sailor Jupiter), Shiori Sakata (Sailor Venus). Yuuga Yamato (Tuxedo Mask) will stay in the future show.
It is scheduled to be performed at AiiA 2.5 Theater Tokyo from September 18 to 27, then at Osaka Sankei
Hall Breeze from October 2 to 4. The general sales of the tickets will begin at 10:00 am on July 26.
"-Un Nouveau Voyage-" 1st main visual
Source: Sailor Moon 20th anniversary project official website via: Comic Natalie
© Naoko Takeuchi
© Naoko Takeuchi, PNP/Kodansha, Nelke Planning, Dwango