TV anime adaptation will premiere on July 7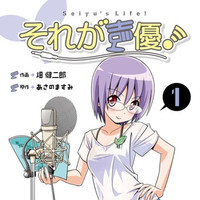 It is officially confirmed that Ichijinsha will release three volumes of the 697-yen commercial tankobon editions of Sore ga Seiyu!/Seiyu's Life! collaborative four-panel manga work by anime voice actress Masumi Asano (story) and author of Hayate no Gotoku/Hayate the combat butler, Kenjiro Hata (art), in Japan on July 8. Each volume comes with a newly-drwan cover illustration and manga episodes.
The manga has been published as printed doujinshi and weekly web series by Asano and Hata's doujin circle Hajimemashite. since December 2011. The story centers on three young anime voice actresses, Futaba Ichinose, Ichigo Moesaki, and Rin Kohana, telling their everyday life in the Japanese anime voice acting industry. The Hiroshi Ikehata (Robot Girls Z)-directed TV anime adaptation is set to premiere a day before their releases, July 7.
Tankobon 1st volume cover
2nd volume
3rd volume
Doujinshi editions:
Ver.001 (December 2011) and Ver. 002 (August 2012)
Soushuhen (Compilation) vol.1 (August 2014) and vol.2 (December 2014)
TV anime main visual
Latest 2nd trailer
Source: "Hajimemashite." official website via: Comic Natalie
© Masumi Asano, Kenjiro Hata/Earphones Ouendan