Symphony event features music from "Sonic the Hedgehog", "NiGHTS into dreams...", and more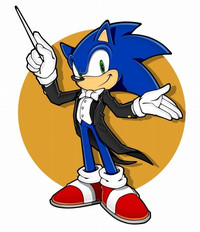 Crunchyroll previously reported on the 14th Game Symphony Japan concert, which will take place on October 10, 2015 at the Tokyo Metropolitan Theater. The concert features music exclusively from Sega video games, and now the entire line-up for the concert has been announced.
The concert will be divided into three segments.
The 1st segment will consist of music from the Sonic the Hedgehog franchise:
Sonic the Hedgehog - Title, Green Hill Zone
Sonic the Hedgehog 2 - Chemical Plant Zone
Sonic & Knuckles - Title, Sky Sanctuary Zone
Sonic Adventure - Emerald Coast Zone
Sonice Adventure 2 - City Escape, Live & Learn (instrumental)
The 2nd segment will feature a variety of music from various Sega games:
Segagaga - Segagaga March
Space Channel 5 - Mexican flyer, Ulala's Swinging Report Show, Spaceport: Introducing Ulala!
Roomania #203 - Haroharonariyansu Marching Song
Sakura Wars -

Geki

!

Teikoku

K

agekidan

Phantasy Zone - OPA! OPA!
Virtual Fighter 2 - Beginning, Akira, Lion, Kage
Daytona USA - Let's Go Away
Cyber Troopers Virtual-on Force -

Conquista Ciela

Feel the Magic: XY/XX - Feel the Magic: XY/XX (full version)
The Rub Rabbits! - Heaven and Hell (full version)
Burning Rangers -

Burning Hearts ~ANGEL of Flame ~
The 3rd and final segment will feature music from NiGHTS into dreams...
Fragmented Nights

Gate of Your Dream

Paternal Horn

Gloom of The N.H.C.

Suburban Museum

T

he Amazing Water

Take The Snow Train

Under Construction

The Dragon Gave a Loud Scream

She Had Long Ears

Deep It Lies

E-LE-KI Sparkle

The Mantle

NiGHTS and Reala

Growing Wings

D'Force Master

Peaceful Moment

NiGHTS, Forever in Our Heart

Sowing Seeds

Dreams Dreams

Fragmented Nights:Epilogue Ver.
In addition to the musical line-up, a number of guests were also announced, including Sonic producer Takashi Iizuka, Hi-sCool! Seha Girls Dreamcast voice actress M.A.O, and comedian Kagawano Mizuwari (the stage name of Satoshi Shimizu). There will also be a "live via satellite" performance by Ulala, the protagonist of Space Channel 5.
For more information, check out the official Game Symphony Japan home page here.
Sources:
Official Game Symphony Japan home page
Paul Chapman is the host of The Greatest Movie EVER! Podcast and GME! Anime Fun Time.