5th anime series "The World Twinkle" will premiere on July 3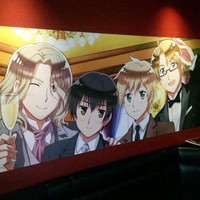 Japanese karaoke chain Adores' Akihabara store has been running a collaboration campaign with the upcoming Hetalia The World Twinkle, the sixth anime adaptation of Hidekaz Himaruya's comedy manga series Hetalia: Axis Powers, since June 1.
All of the rooms and hallways on its fourth floor are decorated with the latest anime illustrations and special collaboration menus inspired by each characters are also served for a limited time till June 30. One dish from the collaboration menus comes with one of the eight newly-drawn original tin badges. The anime's official Twitter has posted photos from the store.
Hetalia The World Twinkle will start streaming on dAnime Store at 12:00 on July 3 (JST).
【イベント情報】カラオケアドアーズ秋葉原店とのコラボも現在絶賛実施中です。今回は気になるコラボルームをお見せ致します♪まずキャラクターたちに囲まれた廊下はこちら! pic.twitter.com/fBLT4F0qpA

— アニメ「ヘタリアTWT」公式 (@animehetalia) June 2, 2015
【カラオケアドアーズ】そして大充実のコラボルーム!キャラクターをイメージした豊富なコラボメニューを食べながら素敵なひと時を楽しんでみてはいかがでしょうか? pic.twitter.com/OUvGUPkFUk

— アニメ「ヘタリアTWT」公式 (@animehetalia) June 2, 2015
【カラオケアドアーズ】またキャラクターたちに囲まれながらアニメ「ヘタリア」の曲を歌い、存分に「ヘタリア TWT」ワールドに浸りましょう! pic.twitter.com/SXepptjlPF

— アニメ「ヘタリアTWT」公式 (@animehetalia) June 2, 2015
【カラオケアドアーズ】コラボルームのご予約はカラオケアドアーズ秋葉原店公式HPまで♪気になる方は是非ともご予約を!http://t.co/jqC9NyovZQ pic.twitter.com/MKkjwLJs9c

— アニメ「ヘタリアTWT」公式 (@animehetalia) June 2, 2015
via: "Hetalia The World Twinkle" official Twitter
© 2015 Hidekaz Himaruya, Gentosha Comics/Hetalia Production Committee