Advance tickets with a ticket holder will go on sale on June 20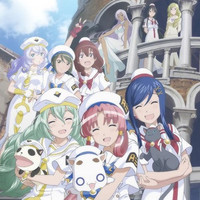 The official website for the ARIA anime project based on Kozue Amano's best selling manga series of the same name today updated with a new main visual, revealing two new characters for the upcoming all-new film ARIA The AVVENIRE, Azusa B. McLaren and Anya Dostoyevskaya.
Azusa is a rookie undine at Himeya Company which Aika and Akira are belong to, while Anya works for Alice and Athena's Orange Planet. Though working for two different companies, the two have became good friends through the practice. As well as for Ai, the rookie at ARIA Company, the manga author Amano provided original designs for them.
It is also announced that the film is consisting of three chapters, two are based on the manga episodes which have never been adapted into anime before, "Sono Aitakatta Anata ni..." and "Sono Atatakana Aayonara wa...," with one based on the newly-written episode "Sono Harukanaru Mirai e..." by Amano for
the project. It will be the first manga story in seven years after the original manga series ended its
serialization in 2008.
All of the voice cast from the previous anime series reprise their roles. The late Tomoko Kawakami, who
past away in June 2011, is also listed as Athena Glory. The production committee still considers her as a
member of the ARIA team, so her name is added in the credit with the permissions from the director Junichi
Sato, Kozue Amano, and the voice actress' agency.
ARIA The AVVENIRE will get an event screening at 11 theaters across Japan on September 26, 2015.
Advance tickets with a ticket holder will go on sale at the theaters on June 20.
New main visual
『ARIA The AVVENIRE』最新情報解禁!第2弾メインビジュアルが解禁となりました!灯里たちメインキャラクターのその後が描かれた新ビジュアル!新キャラクターも解禁です!(宣伝ひげ) #ARIAカンパニー pic.twitter.com/pUPEku4MVJ

— ARIA_The_AVVENIRE (@ARIATheAVVENIRE) June 5, 2015
Azusa B. McLaren
新キャラクターはTVアニメのアイ同様に天野こずえ先生がキャラクター原案を担当されました!まずは姫屋所属の「あずさ・B・マクラーレン」!藍華を思わせる物怖じしない性格!? (宣伝ひげ) #ARIAカンパニー pic.twitter.com/kMfCgBsMF5

— ARIA_The_AVVENIRE (@ARIATheAVVENIRE) June 5, 2015
Anya Dostoyevskaya
もう1人の新キャラクターはオレンジぷらねっと所属の「アーニャ・ドストエフスカヤ」!冷静かつおっとり系な性格なのに天然?!2人はどういった形で「ARIA」の世界に関わっていくのか、ぜひお楽しみに!(宣伝ひげ) #ARIAカンパニー pic.twitter.com/yRkHeEJnvT

— ARIA_The_AVVENIRE (@ARIATheAVVENIRE) June 5, 2015
Advance ticket
さらに数量限定!「The AVVENIRE」チケットホルダー付前売券の発売が決定!6月20日(土)より上映劇場にて発売となります。上映劇場は公式HPにて公開致しましたので、ご確認ください!(宣伝ひげ) #ARIAカンパニー pic.twitter.com/SRzxmqBuar

— ARIA_The_AVVENIRE (@ARIATheAVVENIRE) June 5, 2015
Teaser
Source: "ARIA" anime project official website, Twitter
©2015 Kozue Amano/MAG Garden・ARIAcompany All Rights Reserved