Two shows will premiere on MBS on July 26, on TBS two days later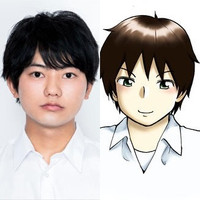 It is officially announced that 21-year-old actor Yutaro Watanabe stars in the upcoming live-action TV drama adaptation of Takuma Morishige's school comedy manga Tonari no Seki-kun. He made his professional actor debut in Yuuki Yamato's 2014 film Itsutsu Kazoereba Kimi no Yume/Count Five to Dream of You, and also plays in Yusuke Ichikawa's Tobenai Kotori to Merry-Go-Round/Flightless Bird & Merry-Go-Round to be released in July 2015.
Meanwhile, 21-year-old singer/TV talent Shiori Tomita plays the protagonist Rumi Ikuno in the Rumi-chan no Jishou TV drama, based on Katsunori Hara's manga series. It will be her actress debut work. As a singer, she previously performed the 31st ED song for Naruto Shippuden, "Dameda Dameda."
The two dramas will be aired together for eight episodes in a 30-minute block. They are scheduled to
premiere first on MBS at 24:50 on July 26, then at TBS at 25:11 on July 28.
Toshinari Seki (Tonari no Seki-kun)/Yutaro Watanabe
Ikuno Rumi (Rumi-chan no Jishou)/Shiori Tomita
"Tonari no Seki-kun" 1st and 7th volume (c) Takuma Morishige
"Rumi-chan no Jishou" 1st and 6th volume (c) Katsunori Hara/Shogakukan
via: Comic Natalie