Arakawa's character sketches for Lajendra, Jaswant, and Alfreed are revealed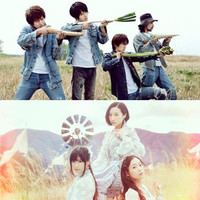 The official website for the ongoing TV anime based on Hiromu Arakawa's manga adaptation of Yoshiki Tanaka's fantasy novel series The Heroic Legend of Arslan today announced the theme song artists for its second cour.
Following the first cour's UVERworld, four-member Japanese rock band NICO Touches the Walls plays the new OP song "Uzu to Uzu" (A Vortex and A Vortex). They previously performed theme songs for Naruto Shippuden, Fullmetal Alchemist Brotherhood, C, Haikyu!!, and Captain Earth.
Meanwhile, after the first cour's Eir Aoi, three-member female vocal unit Kalafina performs the New ED
"One Light." Their most recent anime theme song was "ring your bell," released as their 17th single on
May 13 and used as the ED song for Fate/stay night [Unlimited Blade Works] second season. "One Light"
will be released as their 18th single on August 12.
The website has also posted character sketches for Lajendra, Jaswant, and Alfreed, the three who will
join the second half of the TV anime story, designed by the manga author Arakawa herself. They were
simultaneously revealed in the July 2015 issue of Kodansha's Bessatsu Shonen Magazine, officially
published today in Japan.
Lajendra (CV: Kosuke Toriumi)
Jaswant (CV: Wataru Hatano)
Alfreed (CV: Manami Numakura)
Source: "The Heroic Legend of Arslan" TV anime official website via: Music Natalie
© 2015 Hiromu Arakawa, Yoshiki Tanaka, Kodansha/"The Heroic Legend of Arslan" Production Committee, MBS