Composed by Sintaro Ito (AKB48 "Koisuru Fortune Cookie")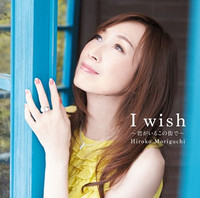 46-year-old Hiroko Moriguchi made her professional singer debut with 1st single "Mizu no Hoshi e Ai wo Komete" (To a Watery Planet with Love), in 1985 when she was 17. The song was featured as the 2nd OP theme song for the TV anime Mobile Suit Zeta Gundam. Then she released 6th single "Samurai Heart", 2nd OP song for the TV anime Yoroiden Samurai Troopers in 1988, and 9th single "Eternal Wind ~Hohoemi wa Hikaru Kaze no Naka" (Smile is in the Shining Wind), theme song for the feature film Mobile Suit Gundam F91 in 1991. She still often appears in many anime-related TV programs and events to perform these songs.
To celebrate her debut 30th anniversary, King Records will release her 31st single "I wish ~Kimi ga Iru Kono Machi de~ (In the Town Where You Are Now) on June 17. It is written by Yui Nishiwaki, who previously wrote "Eternal Wind" for her, and is composed by Sintaro Ito, best known for his work for one
of the biggest hit songs of AKB48, "Koisuru Fortune Cookie." The CD single also contains a newly-recorded
2015 version of "Eternal Wind."
"I wish ~Kimi ga Iru Kono Machi de~" MV
CD jacket
Source: Hiroko Moriguchi official website